Japan, LINE Healthcare's Remote Health Consultation


Japan, LINE Healthcare's Remote Health Consultation
■ (Overview) LINE Co., Ltd. is pursuing an online medical business using LINE (medical related Q & A, remote health counseling, online medical treatment) through partnership with an online medical service provider (M3) based on their 78 million users.
ㅇ 2019.12. Started remote medical health consultation service
 ※ LINE Healthcare Company Information
  -2019.1. Founded: A joint venture between LINE and online medical service provider M3 (Sony affiliate)
  -Business: Remote health medical consultation business (December 2019 service commencement), online medical business (scheduled later)
■ (Main Service) Provides "remote health medical consultation" to doctors  via online on overall health and medical care (paid service)
ㅇ The telehealth consultation provided by LINE Health Care is not an act of medical treatment / examination / treatment following medical judgment (※), and is equivalent to the "remote health medical consultation (doctor)" of the Ministry of Health, Labor and Welfare's "Online Care Guidelines". 
ㅇ Currently, most of the telemedicine treatment in Japan is carried out only in the case of certain subjects and conditions covered by public health insurance (eg, chronic patients who have been face-to-face medical treatment for more than 6 months).
In the case of medical and health counseling services other than medical practice, it can be provided without any restrictions.
※ Excerpts of cautions and prohibitions from the LINE Healthcare Terms of Use
 -LINE Healthcare's telemedicine health consultation service provides general information based on the user's health / medical consultation, and is different from medical treatment / examination conducted in hospitals, and makes judgments such as diagnosis and treatment of symptoms to doctors. Cannot be requested (cannot be issued for diagnosis, prescriptions, etc.)
 -This service is a "remote medical health consultation" centered on chat, and doctors do not diagnose, treat, or prescribe symptoms. Please note that it is different from "online medical service". Also, consultation is only possible by text message, not by phone or video call.
However, LINE HealthCare announced through the press release at the time of its establishment that it plans to review online medical treatment / prescription services such as prescription drug delivery service while observing the future revision of the legal system.
[Figure 1] Concept of telemedicine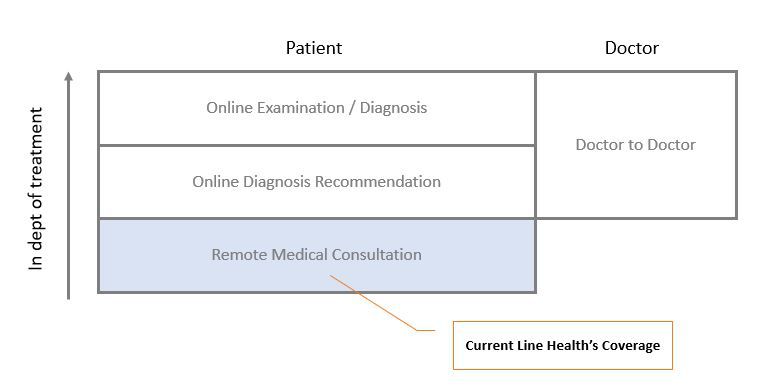 * Source: Ministry of Health, Labor and Welfare (2018.3) 「Guidelines for the proper implementation of online medical treatment」
Definition by concept of telemedicine
1) Online Examination/Diagnosis/Treatment (online-based treatment)
Diagnosis of patients through information and communication devices between doctors and patients, Delivery of diagnosis results to patients, and Conducting medical treatment such as prescription in real time. 
2) Online Recommendation (recommendation for online-based examination)
Consulting a patient through communication devices between doctors and patients, and recommending medical examinations in real time based on information about the condition of health such as patient's symptom appeal.  Medical question, 'medical judgment according to the condition of the patient's health is accompanied by determining the suspected disease, listing the disease name, and selecting the appropriate medical department for examination.  
3) Remote Health Medical Consultation(doctor)
Providing necessary medical advice based on the individual's health status by exchanging information using communication devices between doctors and counselors.
 4) Remote Health Medical Consultation(Other than doctor)
Information is exchanged between doctors or non-doctors and counselors using communication devices, but it is only for providing general medical information and recommending general checkups without making medical treatments such as suggesting and diagnosing the possibility of disease based on the patient's health condition. 
* Source: Ministry of Health, Labor and Welfare (2018.3), 「Guidelines for the Proper Implementation of Online Treatment」
■ How to provide remote health medical consultation and usage fee
① "Consulting right now" by chat method: 2,000 yen (30 minutes)
-Ex) Consultation of current symptoms
② Message-based "Let me answer you later": 1,000 yen (reply to your inquiry with a message within 1,000 hours within 1,000 hours)
-Ex) Recently, 000 symptoms frequently occur, condition hunting, etc.
③ "Consultation reservation": 2,000 yen (30 minutes)
 * Available 24 hours (Sat / Sun)
■ How to use the service
① After installing the line app, access the healthcare home
② Doctor's Choice: Description of specialty fields for each department
  -Internal medicine, pediatrics, gynecology, orthopedics, dermatology, otolaryngology 
The idea is very applicable to people live in remote area in Myanmar and Other Southeast Countries who can't access the medical service easy. 
Source : Korean Insurance Development Institute, June, 2020